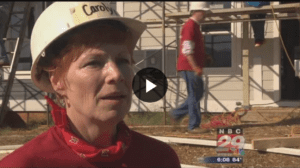 Watch the video here: http://www.nbc29.com/clip/14648157/bank-of-america-donates-volunteers-employees-to-habitat-for-humanity
CHARLOTTESVILLE, Va. (WVIR) – A bank is helping home ownership become a reality for people in the Charlottesville area, in more ways than one.
As part of their Global Build Program, Bank of America donated $15,000 to Habitat for Humanity of Greater Charlottesville to advance economic mobility.
However, the bank's contribution did not end there.
A group of volunteers from the bank picked up tools and got down and dirty to help finish eight houses in the Lochlyn-Hills neighborhood. The bankers put on porches and roofs in the outside heat.
"We're very much looking for those opportunities that align with our corporate goals in this community and its basic needs like affordable housing, economic mobility, and financial literacy," said Charlottesville market manager for Bank of America Carolyn Rainey.
Habitat for Humanity said the $15,000 that the bank donated will support Project 20, which is a commitment to build 20 homes in the Charlottesville area.
"We're not building a typical home in Charlottesville as you might see in most of the rest of the country where it's a simple one-story ranch house," said construction supervisor for Habitat for Humanity of Greater Charlottesville Ken Jollofsky.
Habitat for Humanity said they are building different style homes in mixed-income neighborhoods in an effort to help diversify the community.
"This is basically an upper middle-class neighborhood and so we are increasing the diversity of the neighborhood in a way that a lot of the other builders and developers are finding attractive because people are wanting to live in a neighborhood where not everyone is the same," Jollofsky said.
Bank of America is hoping the project will have an impact on their employees.
"It's really important that they understand the community they live in, where there are opportunities, where there are needs," Rainey said. "We encourage not only group volunteering, but individual volunteering."
In addition to volunteering, Bank of America employees mentor people through ha pathways program to prepare them for owning a house through Habitat for Humanity.