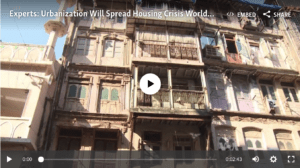 Watch the video at: https://www.voanews.com/a/experts-urbanization-will-worsen-housing-crisis/4608750.html
LOS ANGELES — Close to 70 percent of the world's residents will live in cities by the middle of the century, according to recent United Nations figures, and experts warn that an exploding population will exacerbate a housing crisis in some regions.
Officials predict that global cities could grow by 2.5 billion people by 2050, underscoring the need for action on housing and other urban issues.
From Los Angeles, where the very poor have been forced out of the pricey housing market and camp on tent-lined streets in some downtown neighborhoods, to Mumbai, a city of nearly 20 million where many live in sprawling slums, cities struggle with housing.
It's a problem in prosperous places like California's technology corridor, popularly known as Silicon Valley, and in megacities like Lagos, Nigeria, home to more than 20 million.
​Urban centers popular
People are flocking to urban centers, says Kevin Klowden, who directs the Center for Regional Economics and California Center at the Milken Institute, a research institution. It's not only that large cities "are where the high paying jobs are," he said, "but ultimately for the interaction opportunities, for advancement, opportunities for access to resources."
To relieve congestion, some countries have built, and others are building, new capitals. Nigeria, Myanmar, Kazakhstan and Tanzania have all moved their administrative centers in recent decades, and Egypt is building a new capital east of Cairo.
"They've tried developing new artificial cities when they've had the money for investment," Klowden says of the efforts, "but it only works so far."
People want to be where the action is, he said, in urban centers such as Tokyo. An agglomeration of 37 million, Tokyo is the world's largest city, notes the U.N. report released last May. New Delhi follows with 29 million residents, and Shanghai with 26 million. Mexico City, Sao Paolo, Cairo, Mumbai, Beijing and Dhaka all sit on either side of the 20 million mark.
​43 megacities
By 2030, the world is projected to have 43 megacities of more than 10 million residents, although the report notes that urban problems are not confined to megacities. Rapid growth will also occur in some smaller urban regions. By 2020, Tokyo's population is expected to start to decline, and India, China and Nigeria will account for one-third of the world's projected urban expansion by 2050.
The growth comes as cities face a changing environment and other challenges, from rising sea levels to the lack of drinking water. Cape Town, South Africa, narrowly survived a water crisis from 2015 to 2017 through strict conservation and needed rainfall, while Sao Paulo, Brazil, nearly ran out of water in 2014 and 2015.
"It's often the case that the growth precedes plans to accommodate the growth, and sometimes land-use regulations reflect an earlier era," said development specialist Eric Heikkila, who directs the office of Global Engagement at the University of Southern California's Price School of Public Policy. Sometimes zoning regulations miss the mark, he said, as officials try to balance the variables of available space with the income of residents.
People may be displaced by conflict, have no title to their land, or have no lenders willing to help them finance a home. The World Bank says only 30 percent of land use rights are registered or recorded worldwide.
Former President Jimmy Carter and first lady Rosalynn Carter work on a Habitat for Humanity home for Ericka Santiestepan and her two young children in Mishawaka, Ind.
"So things that we take for granted in the U.S., like I own my home, I have title to that, that is often a barrier for people, especially women and marginalized in countries," said Tjada McKenna, chief operating officer for the home-building charity Habitat for Humanity International. "Public policy really matters," she said.
Private initiatives, like Habitat for Humanity, are helping. The charity recruits volunteers to build homes, enlisting their support in broader housing issues. It has provided housing for more than 13 million people since its founding in 1976. Habitat's most famous volunteers are former U.S. president Jimmy Carter and his wife, former first lady Rosalynn Carter.
Outside of the United States, the organization has micro loan programs, "so we're allowing families to make their homes livable," McKenna said. "With those (loans), people are installing toilets or cook stoves or other things."
Housing is linked to "education outcomes, your health outcomes and income potential," she added, emphasizing its importance.
​Other challenges
In China, many large cities suffer air pollution "at alarming levels," said USC's Heikkila, and despite government efforts, many cities "are beginning to groan under their own weight," he said.
Throughout the developing world, where cities explode without enough housing, "but there is land" the Milken Institute's Klowden said, "you get shacks that are put up, temporary housing that becomes permanent," solutions that he said only worsen the problem.
In tackling development issues, every city is different, Heikkila said.
"It's at its own stage of development. It has its own configuration, geographic configuration, it has its own economic forces at work, it has its own institutions at play, it has its own history," he said.
And solutions, these experts say, must be crafted city by city.