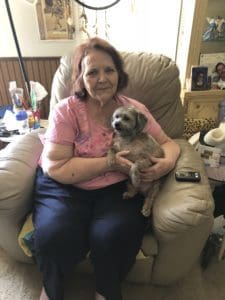 Venita is a long time resident of Manhattan, Kansas, and she now has a safe, decent place to live. She was recently visited by Habitat Repair Team volunteers as they worked on her home on behalf of Manhattan Area Habitat for Humanity (MAHFH). She currently lives with her great granddaughter in a mobile home that she's owned for about 10 years now.
After time and time again of failed attempts to make repairs to the home, were frustrating for Venita, and her story eventually was brought to the attention of MAHFH as they were launching their new Habitat Repair Team home repair program.
"I can't afford to move homes, and I'm not able to fix this place on my own. I used to always love taking old items and making them like new. I can't fix much now, so this has been very frustrating. I was so thankful when Habitat contacted me."
MAHFH relies upon its legion of helpful, hard-working volunteers. Venita's project was completed by a group of K-State students from the Associated General Contractors (AGC) Student Chapter. They fixed the leaks between the walls, added new insulation, reframed the windows to prevent further water damage, and more. MAHFH hired a contractor to repair Venita's roof.
"The first few days their professor came out with them to assist with the project. I was so happy to see these young individuals working hard and learning new skills."
MAHFH is known for building new homes, from the ground up. However, the non-profit organization also repairs pre-existing homes as well, Venita's being one of them.
"I know they have a million other things they could be doing, but I am truly so appreciative of their help. I don't know what I would've done without them. I feel very blessed."
Do you know someone that may need MAHFH repair assistance? Check out this webpage for more information.