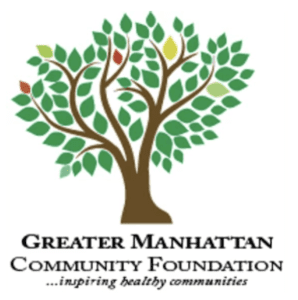 (MANHATTAN, Kansas, June 11, 2018) – The Manhattan Area Habitat for Humanity was recently awarded a $10,000 grant from Greater Manhattan Community Foundation (GMCF) to assist in their efforts to address affordable housing issues within Riley and Pottawatomie counties.
With Grants for Greater Manhattan funding, Manhattan Area Habitat for Humanity (MAHFH) plans to initiate a Habitat Repair Team project called Aging in Place. Volunteers will add modifications to homes of elderly community members that assist them in their daily lives, such as wheelchair ramps and railings.
In response to community requests for owner-occupied home repairs, Manhattan Area Habitat for Humanity created the Habitat Repair Team program. Teams perform non-emergency repairs that include interior and exterior painting, tree trimming, wall and floor repair and accessibility modifications. These home repairs are paid through grants, when available, and zero percent interest loans to homeowners.
For more information or to apply to this program, please contact Melody Sexton, Office Manager, at office@mahfh.org or by calling the Manhattan Area Habitat for Humanity at (785) 537-7545.