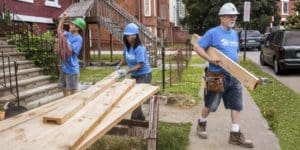 Like so many stories with happy endings, this one had a rough start.
How did one very large, very famous tree make one family very happy? For eight decades, a Norway spruce sat quietly in a half-acre yard in State College, Pennsylvania. Then it was discovered, and became the toast of New York City at Rockefeller Center. But afterward, the real miracle began. The tree was turned into lumber, then used in the renovation of a house for a deserving family. Over months of demolition, manual labor, and crossed fingers, they've built something they've needed for a long time: a home.
Like so many stories with happy endings, this one had a rough start. "I was an angry, depressed, and hurt kid," says Lakisha Atkins, who works at a juvenile-detention facility and was raised by her grandmother. "My parents weren't there for me—they had problems of their own—and I didn't understand what was so wrong with me that I couldn't have a mother and father, so I'd lash out and get in trouble for fighting in school." She left home at 16 and, through sheer will, turned things around—earning her GED and bachelor's degree, getting married, and eventually having five children.
In 2015, she was about to start a master's in special education when unthinkable tragedy struck: While walking home from work, her husband, Lawrence, was shot dead in a robbery. "I had to identify his body," Atkins says. "My life changed drastically from there." The family moved to a cramped apartment in Newburgh, New York, with a serious leak in the bathroom ceiling and a surplus of roaches and rodents in the building. "It was all I could afford," Atkins says.
She applied to be a Habitat for Humanity homeowner, was approved, and then received another piece of extraordinary news: Her future home would be restored using timber from the Rockefeller Center Christmas tree.For the past 11 years—after taking their final bows in January—the trees have been milled into lumber, kiln-dried, and used in Habitat construction projects. And now Atkins is savoring the satisfaction of a job well-done. "I feel like I'm accomplishing something my husband and I set out to do," she says. "It's a fresh start."
Rockefeller Center's head gardener, Erik Pauze, spotted the spruce on the way to a high school football game; its owner, Jason Perrin, gladly donated the tree. "It has a perfect shape: tall and full, no holes," said Pauze. "The same qualities you want in your tree at home." A crew of 45 helped remove the tree, whose trunk was nearly four feet wide. At 75 feet tall, 50 feet in diameter, and about 13 tons, this was complicated cargo. For safety's sake, the truck that brought it to New York City stayed below 40 miles per hour. The tree was decked out with a 9 1⁄2-foot-wide star and 50,000-plus LED lights—on about five miles of wire—which were switched on during the November 29, 2017, lighting ceremony; nine million viewers tuned into the live broadcast. Meanwhile, about 800,000 New Yorkers and tourists alike admired the tree in person daily.
Habitat for Humanity doesn't give away houses: Homeowners put in their own sweat equity via construction work, then pay an affordable mortgage. "I didn't even know how to hang curtains before this," jokes Atkins."But now I've had the chance to work on other people's homes, too. I love helping somebody else's dream come true." Nearly 1,000 Habitat volunteers will have put in about 5,000 hours of work on the home.
Instead of demolishing the circa-1910 brick row house, Habitat preserved its vintage character, and used Rockefeller-tree lumber as blocking and shelving in its gut renovation.
The Big Reveal – Gasps and "Oh my Gods" abounded when the family saw the finished exterior. Lawrence, age 6, bounded up the steps, yelling, "Can we go inside now?!" Habitat made a shelf with specially stamped lumber from the Rockefeller tree, moving Atkins to joyous tears. "I want to show my kids that with hard work, anything is possible,"she says. "My husband couldn't do it with us, but he made it happen from above. I have faith that we'll see each other again, but for now, I will be happy to be home."