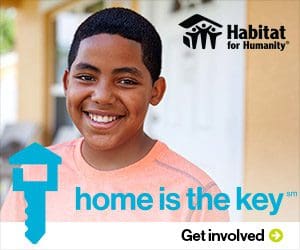 The month of April brings Habitat for Humanity's Home is the Key campaign to exhibit Habitat's strategies to create a lasting housing change.
Home is the Key highlights Habitat's efforts to provide individuals with decent, affordable shelter. During April, Habitat and select national partners will focus on the most pressing housing issues, calling national attention to the affordable housing crisis and the importance of change.
The critical need for decent and affordable housing in the United States is disheartening. Habitat for Humanity has taken this issue head-on alongside our families to provide them with a place to call home.
With this campaign, we hope to unlock futures and change lives so that even more families have access to decent housing. Join Habitat for Humanity during the month of April to unlock the future for families.
At Habitat for Humanity we strive to create affordable and sustainable housing for all. Home is the Key Campaign acknowledges the actions and role Habitat plays in aiding communities.
Through Home is the Key, we hope to spread our message and increase the understanding of the essential role Habitat plays in helping families. Having a Habitat home can provide the safety, stability and opportunity that kids need to thrive, and serve as the foundation for building a brighter future.
Owning a home unlocks endless potential for growing families, children, veterans, and many more.
Homeownership means more than owning a home. Homeownership aids in helping families achieve strength, stability, and reliance. Decent, affordable housing helps families and individuals create a better life.
Home is the key to everything.